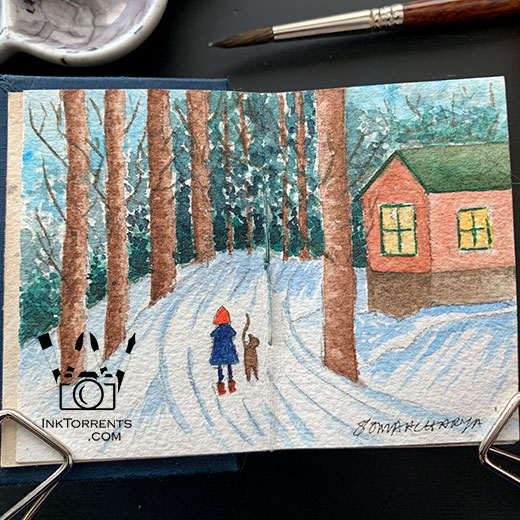 Hi Everyone! It has been a long time since I visited here, but I needed some time off. During my hiatus, I did my best to keep busy. Among other things, I finished a quilt, made a print for a charitable donation, worked on bookbinding, and finished one painting daily. The Girl And Her Cat in the picture very much led the way the last few months and I am happy that they did.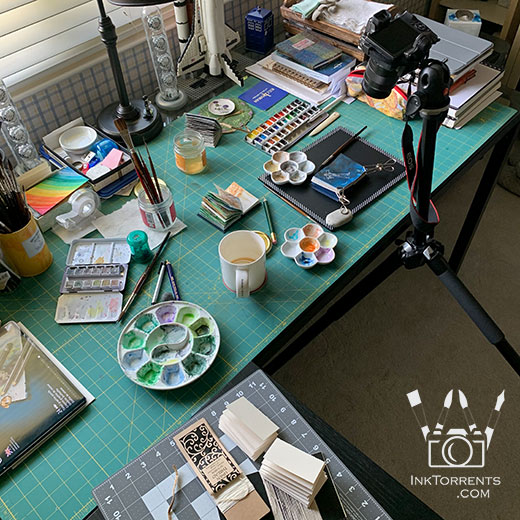 I also worked with different art supplies. I look forward to sharing my findings with you.
I finished my Simple365 black and white photography project as well. I will continue to post those pictures here.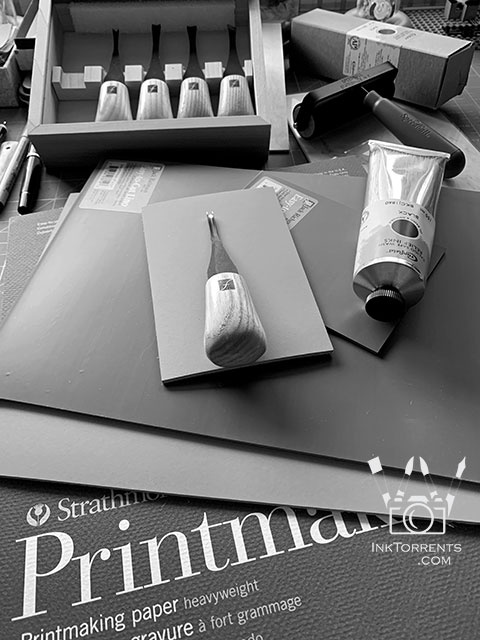 My husband often gets me art supplies for my birthdays. This year I didn't feel like celebrating, so I pulled out my birthday gifts from last year and made good use of them.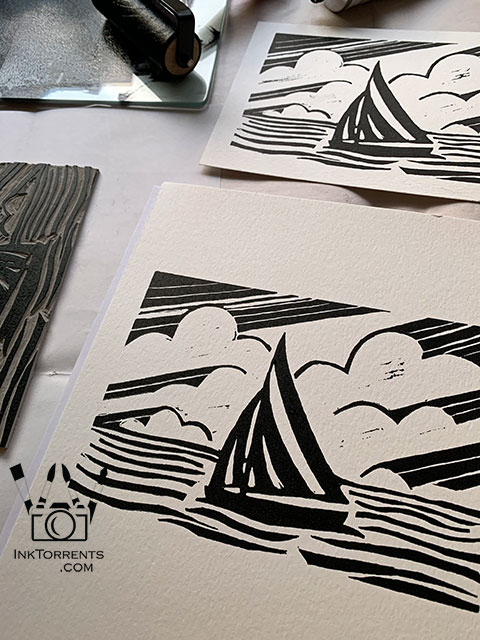 Twitter Art Exhibit is an event where artists send their works to be auctioned off for different charities each year. Instead of sending a painting this year, I decided to send a lino print called After The Storm.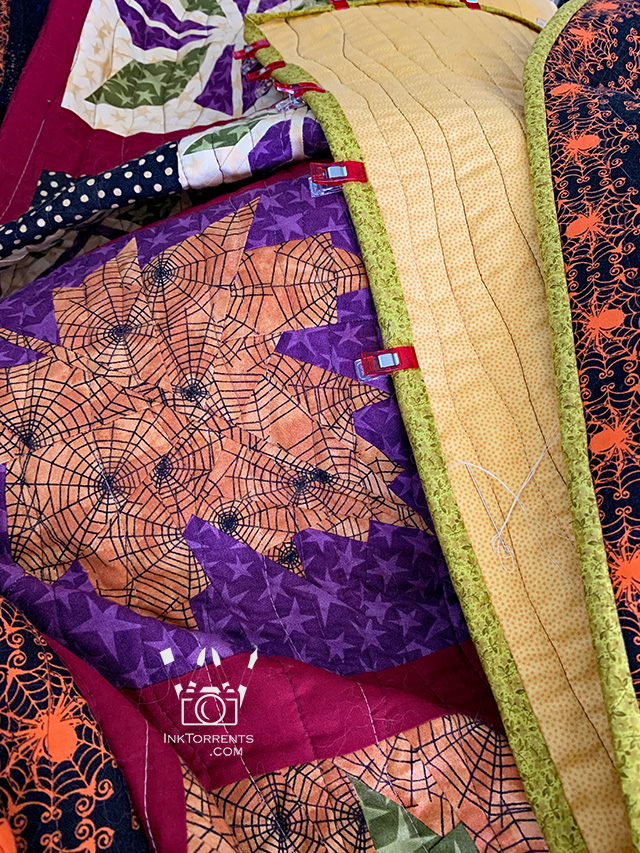 I finally finished this long overdue quilt. Hand sewing the binding over a cup of coffee is a nice way to wake up. Now I need to take a few photos for the show-and-tell next time.
Ever since I was a child, I loved making books. I have been playing with different materials. I decided to switch to making the cover for these little ones with fabric instead of paper. They look so much nicer!
So far I have finished 151 little paintings in five of these books, and I just started on the sixth one.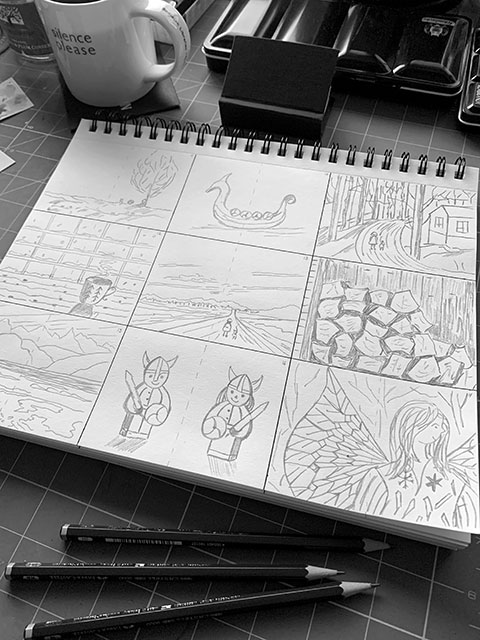 I had an intense sense of being lost and helpless when I started painting in the first book. The Girl And Her Cat was the very first painting, and they started to appear a bit more often. They took me to different places, both near and far.
Here are the first 16 of those little paintings. The parchment backgrounds and the firewoods are painted with my homemade walnut ink.
Please Click on the image thumbnails to see the photos.
I will finish with a little story about the Winter Fairy and Charlie the cat with a snowflake wand.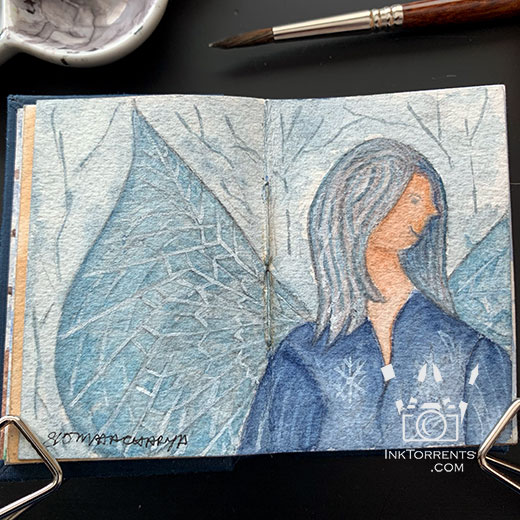 The year was really dry and there was scarcely any snow. Not nearly enough to tuck the trees and plants under snow-blankets for their winter slumber. Without their winter slumber, the plants and trees wouldn't be able to rest properly, and without rest they wouldn't be able flower in the spring. They were distraught at the thought of not being able to provide for so many birds and insects that depend on them. The Winter Fairy was also very worried, until an idea came to her.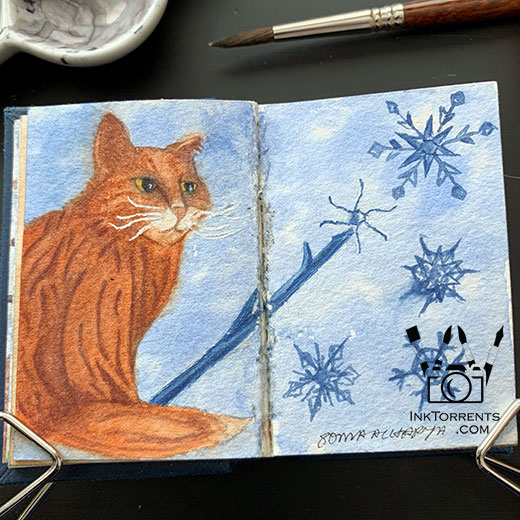 She sent calls for help to all creatures near and far. She gave each one a little wand. All they would need to do is think of a pretty snowflake. The snowflake would then appear from the end of the wand and travel to wherever it was needed.
These creatures would need to have the disposition of a youngster. How else would anyone think of pretty little diamond-glinting snowflakes? During an overcast day here, I found our little 17-year-old Charlie, who is the perpetual kitten of our home, sitting by the door staring outside. When I asked him what he was looking at, he told me of his important mission of helping the winter fairy. I gave him lots of love and wished him much luck. The mountains did get a good amount of rain and snow afterwards.
I hope you enjoyed the visit. I am looking forward to seeing my friends and familiar "faces" here again.
Until next time,
-Soma
I am linking up with the linky parties on my Events And Links page. Please pay a visit to some of them. I have joined a few new ones recently and they are a wonderful bunch!