I have so much to share with you today! During the past couple of weeks, I have spent a large amount of time into the wee hours of the night fiddling with code, which I enjoy much more than I care to admit.
Having sold over 5,400 patterns and art prints through Craftsy and Etsy, I have decided to open my web shop right here at the website.
I have a quite few international customers and readers. I am happy to say that along with my US guests, I am also able to welcome my international guests to my shop.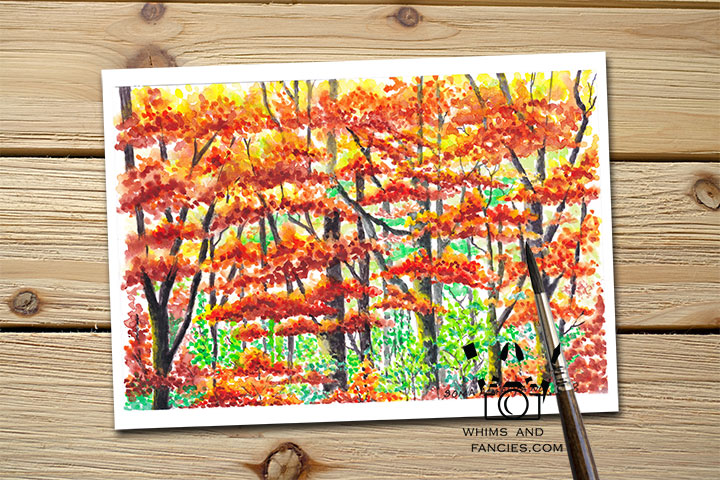 Around the same time, I also worked on creating greeting cards from my prints, now available in my shop. They can also be conveniently displayed in a small 5 inch x 7 inch frame.
Simple 365 – Set 3
I did surface from the computer every now and then to continue with my Simple365 project.
Please Click on the image thumbnails to see the photos.
Early this year, I started taking daily photos of simple everyday things to remind me to be happy. This set is full of puffy white clouds with occasional rain, pretty flowers – both wild and tamed and other things that reflect my days and my life.
WATERCOLOUR SERIES –
WATER & COLOUR MIXING
Now, on to the next chapter of the watercolour series. I am happy to hear that you found the info on the last post useful.
Brush and Paint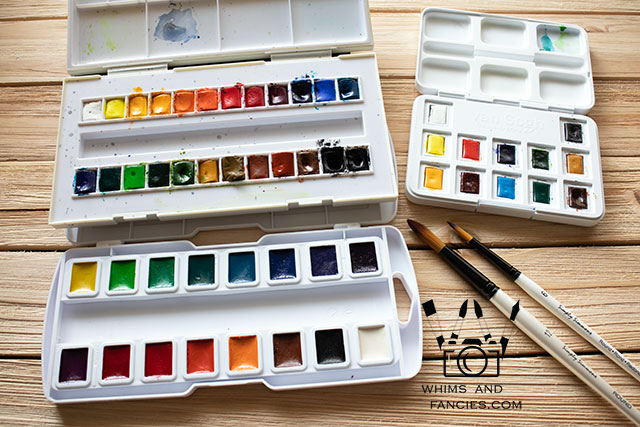 Brush – Buy a single good brush instead of a package. I recommend a size 6 round brush (round belly with a tip).
Paint – Get a set of paints instead of 3 primary colours to mix other colours. It can be quite daunting and discouraging. Plus, who does not like to look at a box full of colours!
Tubes are a must if you are working on large areas, but for learning and playing, I prefer pans.
Brands
I wanted to strike a balance between budget and quality while recommending colours. So here are three paint sets that I recommend:
Prang – Really good for its price and it can be found everywhere.
Sennelier Le Petite – It has the quality of the professional Sennelier brand for an affordable price.
Van Gogh – For a complete beginner, I find them to be too pricey. However, this is a great stepping stone toward pro grade. They are one of the best student quality paints I have come across.
Additional supplies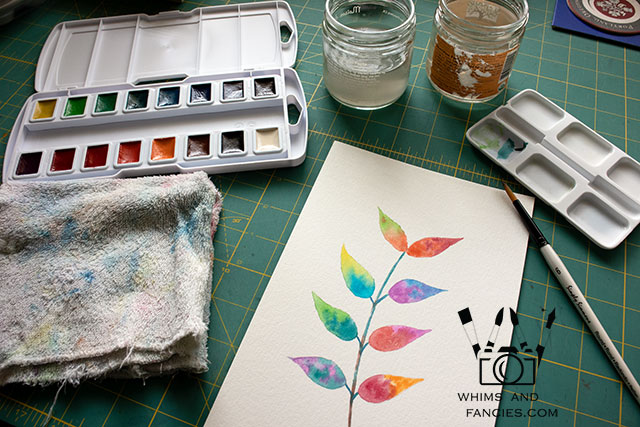 This is how I like to set up my work surface.
A towel for wiping your brush, and jars for water
Pro Tip – Use 2 jars. Dirty water jar – Use this to rinse out the colour-loaded brush. Clean water jar – Add fresh, clean water to your brush before picking up a new colour. I save the lids to close up the jars before leaving the work-area to avoid accidental tip-over damage and keep my cats from drinking dirty paint-water!!
Colour Swatches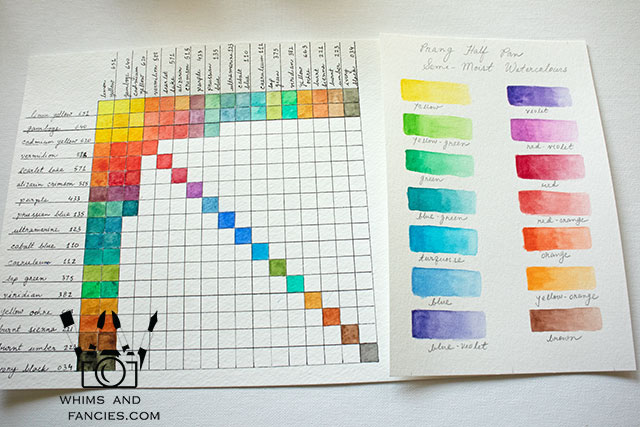 Colours in the box look very different than on the paper. I make a colour swatch for every new colour I get.
I am really bad at formal colour mixing though. As you can see, I never even finished it! I mix colours as I paint and write down the "recipes" in my sketchbook.
Colour Mixing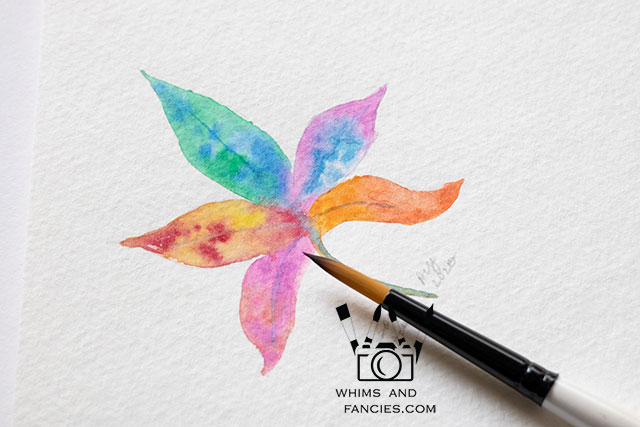 We are going do some colour mixing by painting SMALL silhouettes such as leaves, butterflies. shells, starfish etc. Kids can join in by painting fish, dinosaurs, bugs, etc.
Search for "silhouette" on the web and select an image you like. Then, following the instructions from the last lesson, trace the outline on your watercolour paper.
Amount of Water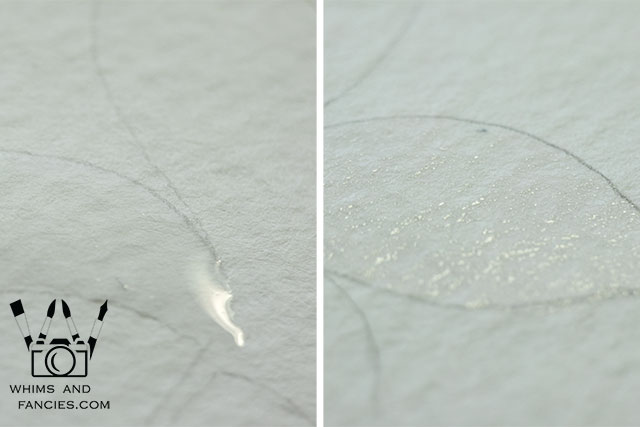 Using a clean brush, add water inside the drawing outline. At the beginning, work in really small sections, no more than 1.0 – 1.5 inch. As you gain more experience and work faster, you can start working with a larger area.
NOTE – You never want to have pooling water, just enough water to have a glistening look on the paper.
Wet On Wet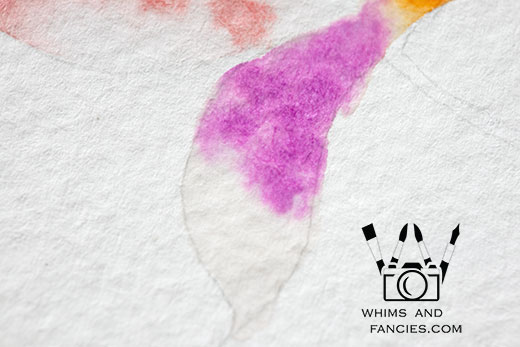 Pick out two colours from your box, add a tiny bit of water to them with your brush to pre-moisten them.
Dip the brush in clean water, then load up the brush with the first colour.
Pro Tip – If you don't see paint pigment on your brush and/or water is depositing on your paint pan, you have too much water on your brush. Wipe some of the water on the towel, and try again. You should be able to see the paint on your brush.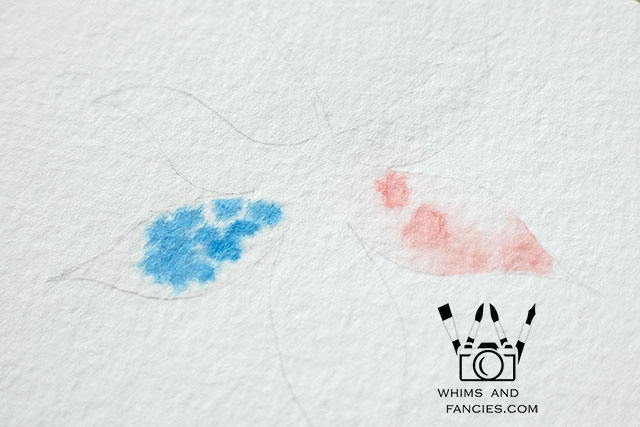 Now "drop" paint on paper by touching the paint loaded brush starting on one side of the wet drawing. You will see the paint spread.
NOTE – Paint will spread less on less wet paper, creating concentrated colour (blue in this example). If your paper is too wet, paint will spread faster, leaving a more diluted colour (red in the above example).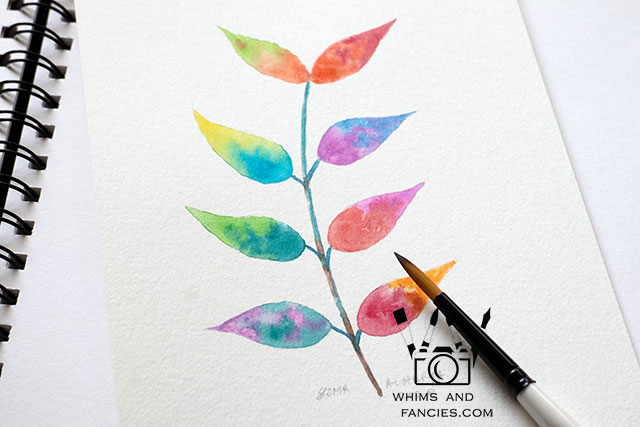 Rinse your brush and wet it with clean water. If you see the paper drying up, gently moisten the paper. Repeat with your second colour on rest of the wet painting. The colours will spread and mingle with each other. They might even make a new colour.
Once you have added the paints let them do their work and walk away. Paint will continue to spread even after the surface looks dry to you. More often than not, it will surprise you in a very good way when it is completely dry.
Continue to play with different colour combinations and water amounts and enjoy the wonders of watercolour.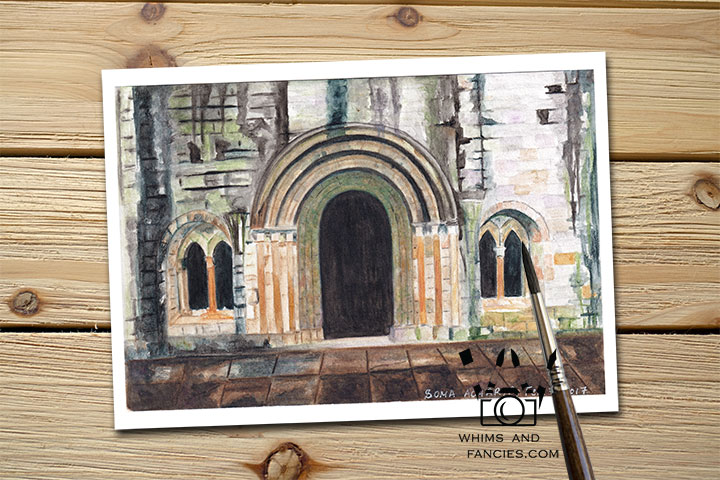 Purchase Weathered Scottish Abbey
Update – I got a few requests for the Fairy Leaves, I added cards and prints in my shop.
Have fun playing!
-Soma
I am linking up with the linky parties on my Events And Links page. Please pay a visit to some of them.
Leave a comment